Editorial - Research on Chronic Diseases (2018) Volume 2, Issue 1
Heat shock protein aggregation and chronic kidney disease
*Corresponding Author:

Ian James Martins
Centre of Excellence in Alzheimer's Disease Research and Care
Sarich Neuroscience Research Institute
Edith Cowan University
Verdun Street, Nedlands, Australia
E-mail: [email protected]
Keywords
global, chronic kidney disease, autoimmune disease, Sirtuin 1, heat shock protein, amyloid beta, aggregation, mitophagy, core body temperature, treatment
Editorial
Chronic Kidney Disease (CKD) has now become of major concern [1-5] to various global health diseases such as cardiovascular disease, diabetes [6,7] and neurodegenerative diseases [8]. In the developed and developing world the high cost of kidney treatment may reach 40-70 billion dollars. In the developing world mitochondrial apoptosis in CKD has become important with relevance to acute kidney injury that may lead to end stage renal disease. Interests in environmental factors that may induce mitochondrial apoptosis and kidney disease [9,10] has accelerated with the discovery of the heat shock gene Sirtuin 1 (Sirt 1) that is connected to heat shock proteins (HSP), mitophagy and programmed cell death (Figure 1) [11]. The nuclear receptor Sirt 1 and HSP play a major role in the maintenance of kidney health and disease with Sirt 1 repression and HSP critical to maintain kidney cell survival [12-17].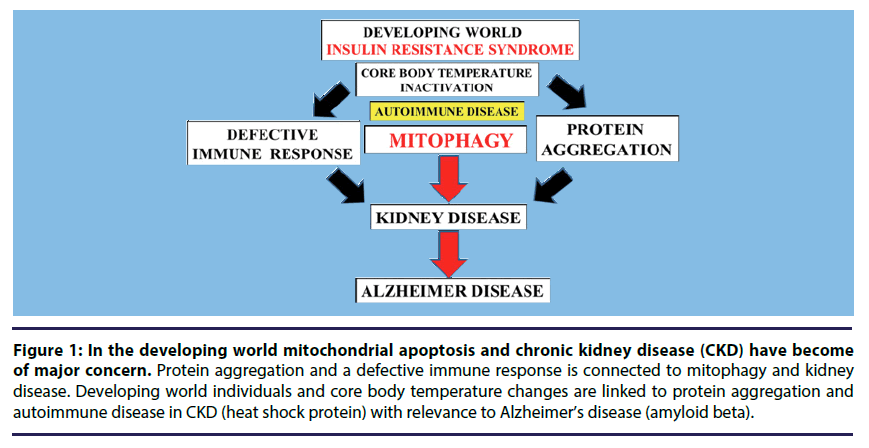 Figure 1: In the developing world mitochondrial apoptosis and chronic kidney disease (CKD) have become of major concern. Protein aggregation and a defective immune response is connected to mitophagy and kidney disease. Developing world individuals and core body temperature changes are linked to protein aggregation and autoimmune disease in CKD (heat shock protein) with relevance to Alzheimer's disease (amyloid beta).
Sirt 1 is connected to core body temperature, autoimmune and mitochondrial disease [11,18,19] with Sirt 1 repression connected to the control of the adaptive immunity and linked to acute kidney injury. Core body temperature disturbances inactivate the heat shock gene Sirt 1 with acceleration of protein aggregation that involve the HSP and amyloid beta [11] and linked to acute kidney injury. The kidney is important in the clearance of amyloid beta [20,21] and HSP is important to kidney amyloid beta clearance and formation of amyloid beta oligomers that are associated with kidney and Alzheimer' disease [11,22-24]. Sirt 1 and autoimmune disease of the kidney [12,13,22-24] are now intertwined and involve dysregulation of immunogenic HSP and amyloid beta proteins with primary defect in mitochondrial apoptosis [11].
In the developing world the global chronic disease epidemic has major implications with relevance to Sirt 1 gene inactivation and CKD. Repressors of Sirt 1 [25] such as gram negative bacterial lipopolysaccharides (LPS) should be measured in the plasma to avoid CKD in the developing world [26-28]. Xenobiotics and the developing world are closely associated [29] and CKD will present elevated xenobiotics that enter the brain and associated with Sirt 1 inactivation and neuron apoptosis with relevance to Alzheimer's disease and neurodegenerative diseases. Developing world individuals that contain Sirt 1 inhibitors such as LPS/xenobiotics may be referred to as environment sensitive individuals to core body temperature changes with accelerated HSP-amyloid beta aggregation that induces acute kidney disease with chronic renal failure. Gram negative bacterial amyloid peptide [30] may further interfere with HSP-amyloid beta aggregation [11] with acceleration of kidney associated amyloidosis and mitochondrial apoptosis.
Genomic medicine [31,32] is now critical to the treatment of mitophagy in CKD without genomic medicine treatment in nephrology the kidney is the major concern in the global chronic disease epidemic. In the developing world various nutrients [11] need to be consumed to prevent uncontrolled protein aggregation that lead to kidney damage. In developing world individuals the pathway for immunogenic HSP-amyloid beta pathway is defective [11] and linked to autoimmune disease, mitophagy and CKD. Diabetics and CKD is now of major concern for Alzheimer's disease with Sirt 1 now closely linked to neurodegeneration and longevity [33] in developing world individuals. Appetite control may be critical to prevent autoimmune disease [18] with the kidney the most sensitive organ to undergo accelerated autoimmune disease in the global chronic disease epidemic.
Conclusion
Environmental factors have become of major concern to mitophagy and kidney disease in individuals from the developing world. Heat shock gene Sirt 1 inactivation leads to protein aggregation and chronic kidney disease. Food consumption in the developing world is of major interest to reverse and stabilize uncontrolled protein aggregation and maintain Sirt 1 activation to prevent kidney cell apoptosis in these populations.
Acknowledgement
This work was supported by grants from Edith Cowan University, the McCusker Alzheimer's Research Foundation and the National Health and Medical Research Council.
References